2011 Most Active Players in the Vendor Channel
2011 Vendor Origination Channel Almost Back To Pre-Recession Levels
By Monitordaily
Vendor Finance
May/Jun 2012
The Monitor's Survey of Most Active Finance & Leasing Companies in the vendor/dealer space showed remarkable improvement - 20% higher than the previous year and almost back to pre-recession levels. Notably, the increase was broadly based and indicative of a continuation of an upswing that began in 2010.
Introduction
The year 2011 turned out to be a welcome change from the previous three years as new business volume for leasing companies engaged in the vendor/dealer channel reported a 20% increase in year-over-year originations compared to last year's meager increase of just over 2% — and two previous years of decline. And, significantly, the 2011 increase was broadly based as 23 of the top 25, or 92%, of the vendor finance companies shown in this report posted origination growth. We're not yet at the level that was achieved in 2007, but clearly the gap is closing.
Basis for the Rankings
The rankings shown on the exhibit depict those equipment finance companies that have provided information on their funded volume for 2011 derived from vendor and/or dealer relationships. Notice that the data extends over a period of five years (2007–2011), affording a look at a trend that occurred before, during and, more recently, after the credit crisis. It becomes almost immediately obvious that much of the pain that was experienced over the past three years has subsided and, thankfully, activity has started to approach pre-recession levels.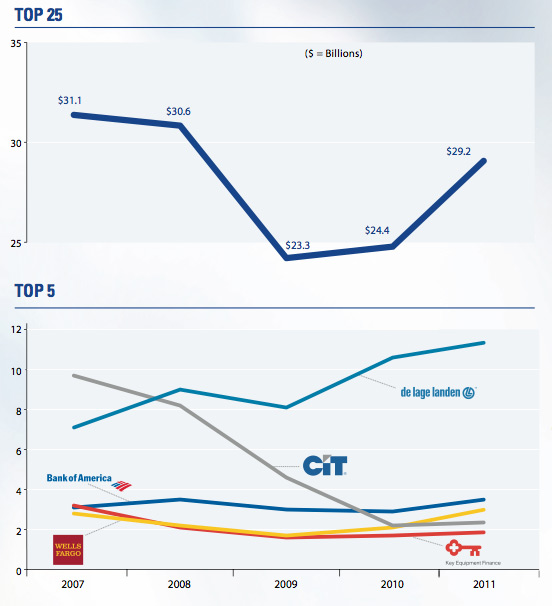 The Rankings
Occupying the top spot is De Lage Landen, by far, the largest contributor to the aggregate volume reported by the 25 participants in this year's survey. With $11.4 billion in 2011 new business volume, DLL's year-over-year increase of 12.8%, or almost $1.3 billion, is the most notable and accounts for about 27% of the overall increase of $4.84 billion. Solidly in the #2 spot, Banc of America Leasing's 2011 volume of $3.6 billion was up from $2.9 billion, or about 25% higher than the previous year. Wells Fargo Equipment Finance moved up in the rankings to #3 after wresting this position from last year's #3 vendor finance provider CIT. Each reported respectable increases of 43% and 18%, respectively, but Wells Fargo's year-over-year increase of $892 billion was more than enough to offset CIT's increase of $386 to earn the rise in the rankings. And rounding out the top five, Key Equipment Finance maintained its #5 ranking from the previous year with a smaller, but noteworthy increase of over 5%.
Overall, the top five vendor leasing companies that participated represented 77% of the total for all 25 respondents, accounting for $22.4 billion of the combined total of $29.1 billion. As a group, the top five aggregate 2011 volume increase of $3.4 billion was almost 18% higher than their collective performance in 2010.
As a footnote to this commentary, we want to acknowledge that one of the major players in the vendor channel, GE Capital, was unable to provide us with their global vendor leasing activity from this past year.
Notable Performances
There were nine participants that reported year-over-year increases of 50% or better. Leading this group was TD Equipment Finance, which reported an almost six-fold increase in vendor related new business activity primarily resulting from expansion of its federal leasing programs. Stearns Bank Equipment Finance's over 98% increase was followed by Peoples Capital & Leasing's 94% increase and CoActiv Capital Partners' 76% increase. Other participants exceeding this benchmark included Marlin Leasing, Susquehanna Commercial Finance, Societe Generale EF USA and BMO Harris Equipment Finance (f/n/a M&I Equipment Finance) at 68%, 58%, 57% and 52%, respectively.
Vendor/Dealer-Related Activity as % of Total Volume* — Five-Year Trend
Another measure of determining the significance of the vendor/dealer channel as a source for new business volume is shown by the percentage of the total volume that was reported by each of this year's participants. By way of example, De Lage Landen's dependence on the vendor relationships as a source for new business is 100% versus, say, Banc of America Leasing's vendor total of $3.6 billion represents about 34% of its total volume for 2011 of $10.5 billion. Viewed on this basis in the aggregate, in 2007, about 49%, or $30.5 billion of the total of $62.5 billion for all participants versus in 2011 when the vendor related component of $29.1 billion represented over 56% of the $51.9 billion total for the 25 participants in this report.
*The total 2011 volume for the leasing companies shown in this report will appear in the upcoming 2012 Monitor 100 scheduled for distribution to subscribers in June of 2012.
Notable 2011 Vendor Program Agreements
As shown on page 14, there were a number of program agreements worth noting. Not surprising, we're starting to see a number of solar energy-related relationships. Over the past six months, for example, Bank of America, CIT Global Vendor Finance and De Lage Landen all appeared in the news with announcements of vendor relationships with solar energy-related programs.
One of the more interesting announcements was the launch of a relationship between Macquarie Leasing and American Express in Australia wherein business owners will be able to finance new commercial vehicles and equipment, which is a "global first" for AMEX within the equipment finance space. Of course the hook is the ability to earn Membership Reward points. And, lastly, GE Capital announced a retail finance program with Kioti Tractor wherein Kioti's 250 independent retailers across the U.S. will be able provide end-user customers with financing for compact tractors and utility terrain vehicles.
Arrivals & Departures
New to this year's list of companies that do business in the vendor/dealer space and reported enough 2011 volume to qualify to be ranked in the top 25 are Med One Capital, TD Equipment Finance, Direct Capital and Western Equipment Finance. Not included from last year's list are People's United Equipment Finance (declined to participate), Trans Lease and Webster Capital Finance (neither made the cut) and Canon Financial (reclassified as a captive).