Construction Equipment Dealers Admit Contractors Are Feeling the Pinch
By Amanda L. Gutshall
Annual Industry Sector Overview Issue
September/October 2008
With the residential housing market going down the drain, major banks being bailed out by the Fed and company after company filing Chapter 11 or even Chapter 7, to say it's been a rough year is an understatement. And no industry knows this better than the construction industry.
With the residential housing crash, many contractors' work halted and others focused their business on other sectors to stay afloat. But it hasn't been all downhill. On paper, it's been looking like the opposite for some — including the major equipment manufacturers. Cat reported an all-time record second quarter, with growth mostly driven by sales outside the United States. CNH reported the highest quarterly earnings in the company's history with its second-quarter numbers up 52%, and Volvo CE's sales increased in Q2/08 by 27%. Even some of smaller manufacturers, including Hitachi, which reported numbers that beat all forecasts, and material handling equipment maker Manitou also announced sales are up.
With this kind of good news, we would assume that it stretches down the food chain to the construction equipment distributor and of course, the contractor. But you know what they say when you assume. Unfortunately, the contractors and dealers are feeling the crunch and even with government incentives such as the bonus depreciation initiative, some companies will end the year just scraping by, with many contractors, especially those that dealt exclusively in residential — now long gone.
According to FMI's 2008 U.S. Construction Overview, construction economists noted that commercial construction's growth will continue. "However," an FMI release said, "inflationary pressure from tighter supplies, increased transportation fees and higher prices for raw materials persists, driving up building costs that could squeeze profits for contractors caught in the middle."
In the Association of Equipment Manufacturers 2007-2008 Outlook for Construction Equipment Business, companies were asked what factors would affect their sales. Many of those surveyed noted that factors such as consumer confidence, interest rates, the general economy, highway funding, credit availability and energy costs are among the biggest factors that would affect them based on what's hurting their customers and end-users.
In this year's Monitor Industry issue for our construction industry coverage we wanted to talk with equipment dealers to see how they're doing and in turn how their customers are faring. We soon saw that the factors we're reading about, reporting about and discussing even in this article, are true, are real and are a very big concern for many. We found out from our participants that there are, indeed, many issues on their mind.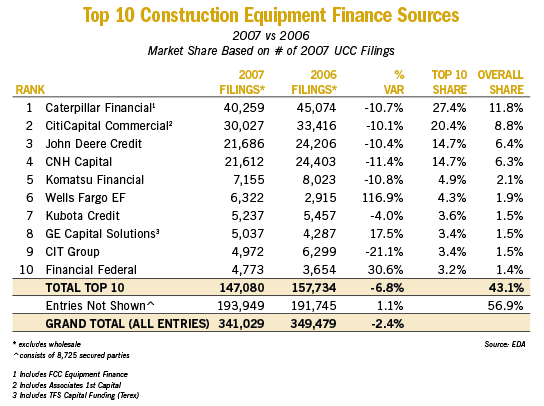 Economy Stalls Purchasing/Leasing
With the rising costs of doing business and maintaining that equipment in the current credit crisis, some of our roundtable participants say that delinquencies are becoming commonplace. Roland Machinery's vice president of sales Matt Roland says delinquencies are definitely on the rise, "but we're watching it closely." Roland Machinery is a Komatsu equipment distributor serving the midwestern states of Illinois, Missouri, Indiana, Wisconsin and Michigan.
Tim Luby, rental manager of Luby Equipment, a Case dealer based in Missouri, Illinois and Arkansas, sees defaults increasing as well. "The smaller guy is hurting, and that's unfortunate because Case is for the owner-operator."
So are delinquencies pushing more rental customers to their dealers? Not so much. "I don't know that everybody is doing a lot of rental. I think the rental companies are suffering also," says Jerry Nickerson, sales manager at Ellen Equipment, a Case dealer in Colorado and New Mexico. He notes that the company's business is down "by at least 50%," and although they're doing some leases, it is by no means boosting business.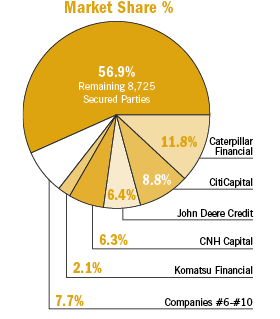 "In an economic environment suffering from the financial stress of a slowdown, construction companies are looking for ways to cut back and minimize their expenses," explains Erik Olsson, president and CEO of RSC Equipment Rentals, which rents mainly to the industrial and nonresidential construction sectors across the country and in Canada. "Fewer companies are willing to spend the necessary amount of money to expand their fleet or purchase new equipment, especially when older, less reliable machines are still part of their overhead."
That being said, he adds, "…It's worth comparing the cost of renting versus owning the equipment. I think most contractors [are] surprised at how much they save. The decision to own versus rent should be analyzed over the useful life of an asset and the percentage of time that asset will be utilized is a critical component."
Roland also notes that his company's rental numbers have been up this year, while Luby sees the opposite. "We've had a pretty aggressive rental operation going since 1999." But this year, Luby says, "It is down considerably. It seems like new [machine sales] have picked up, while rental has stayed back, which is strange. We're on an upturn in iron sale but flat on rental," which is not what the company expected going into the second half of the year.
And Luby Equipment had even more surprises. After a disappointing spring, June sales picked up while July "was one of the best months we've had this decade, which no one saw coming. August killed July, which we couldn't understand, and September has been back to normal."
Customers Treading With Care
With this abnormality after so many years of good times, customers are feeling the pinch and relaying it to their dealers. "There's apprehension," states Roland. "They're not going to take on a capital expense — that's going to have a flat monthly payment — without knowing they're going to have a lot of work, and a lot of work is hard to find. So it's just apprehension, it's cautiousness."
Luby agrees. Customers are "cautious, very cautious." Customers ask, "Are you sure we need it? If not, then we'll rent it. There are obviously people who use things enough to buy, but if they're unsure … it's harder to get guys to jump in. We'll find that people are shopping all lines now. There isn't just your dedicated 'we love Case [customers],' now they're going to see what's out there. And everyone's fighting to get every deal because margins are tighter."
Nickerson admits that it's difficult to know if these unsure customers will get a break any time soon. "Housing repossessions are way up, the building sector is almost nonexistent, and we still have people buying… I wish I had a crystal ball. One week it looks like there's a lot of interest, and, they get cold feet and say 'No, I better hold off.'"
And these customers have good reason to wait and see. As both Roland and Luby found out first hand, many of their customers have disappeared. "We've had some pretty good customers," Luby says. "But then thy bow out. They're shutting their doors. Hurting. We've heard people are hurting. They're out there getting these jobs and others are saying 'I don't know how they possible can make money doing it,' and the next thing you know … they're gone."
"There's obviously more bankruptcies or those just going out of business," Roland concurs. "Some are not going bankrupt, they are just shutting their doors."
Expanding Service
As these cautious potential buyers and lessees check out their options, equipment dealers are boosting their service and even taking on an increased number of questions when selling and renting equipment. RSC extends servicing their customers so far as to provide fleets on the contractors' facilities. "In our experience, industrial customers engage in long-term service contracts with trusted suppliers to meet their equipment requirements," Olsson explains.
"In order to capitalize on this trend, RSC operates rental yards on-site at the facilities of some of our largest industrial customers pursuant to three- to five-year contracts… Under these contracts, we typically agree to service all of our customers' equipment rental needs, including products we do not typically rent. We have also developed a proprietary software application, Total Control®, which provides our industrial client with a single in-house software application that enables them to monitor and manage all their rental equipment."
Roland Machinery has been offering enhanced packages to aid its customers with the burdens their facing right now. "We're trying to do some customized financing packages, customized rental purchasing and give them a variety of options to try to work with within their constraints that they have right now. But at the end of the day, if the customer doesn't have a lot of business, he's not going to buy."
Luby notes that more and more customers are presenting more questions, asking about warranties and much of the provisions they once took for granted. "They're asking a lot of questions. They're asking more about warranty, of what is covered. Before they just assumed, now everybody is looking at the small print." However, he notes, the company has a solid reputation in the area it serves, where customers know the service they will receive and have come to rely on it. "Based on 30 years of doing this, we seem to have a good reputation of servicing our customers."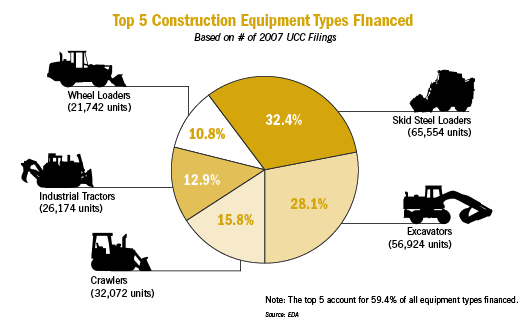 What Can Be Done?
With government incentives like the Economic Stimulus Act (ESA) Section 179 initiative and the bonus depreciation effort, there is some relief for contractors who wish to use it — if they are. The results from the roundtable participants equals out into those that are and those that aren't mostly because it's not a long-term solution.
ESA Section 179 was "designed to encourage business purchasing, will lower taxable income and can dramatically cut the 2008 tax bill, thereby freeing up cash in the near term," says Olsson. "But there is a catch: the more you depreciate now, the less you will be able to depreciate later… If history is any guide, the temporary capital investment incentives will boost equipment purchasing in the months ahead as savvy companies take advantage of the law to buy newer, more efficient, more environmentally friendly equipment."
But is what's good in theory actually working to a contractors' benefit? Luby thinks so. "It's huge. We love it, and they are using it, yes. Anything like that is key — it's a matter of educating to make sure people know about it… It gives them another option."
However, both Nickerson and Roland don't see an increased amount of customers utilizing it — yet. For Nickerson, he notes that those who are busy, that have the cash to purchase equipment are using it. "But the people that aren't busy are saying how can it help them when they're not making any money anyway… There are people taking advantage of it, but I would say the biggest share aren't, because they don't have the work or even the income to even think about buying anything."
For Roland, he hasn't heard much about the incentive from his customers right now. "I've heard a little bit but not near like it was a couple of years ago when they introduced it. The number one class of customers that is buying right now is the bigger corporations, the bigger contractors. And traditionally, bigger contractors need depreciation every year, so the bonus doesn't really help them."
He continues, "The small contractor that has a good year will want to take the bonus, the small- to medium-sized contractors are the ones that the bonus helps the most because they're trying to create more expense for this year. With that said, they are also the ones that are affected the most by this slowdown of the economy… Right now, it's too early to tell. We'll see how November and December look, but right now it seems to be somewhat negligible."
So what else can be done to help the contractor and in turn help the distributor? "We need a more positive economy and fewer fuel costs," Luby says to start. "That's what we really need, because people are afraid. The little guy, the small contractor, has got to become cost effective."
For Roland, it's putting money back into our roads and highways, something the government needs to focus on in the long term. "What it needs to do is reinvest in the heavy highway fund. Our roads are going to hell everywhere in our territory. We're in four states, and all of them have road issues. Road creates jobs, and road creates good work for contractors, which means they're going to buy equipment… Ultimately, the only thing government can do is really put good jobs out there. Good paying road jobs, which means they need to fund heavy highway contracts. The Feds are running out of highway money and the states don't have the money to match it so it's a bad deal right now."
He also acknowledges that it's really a country-wide problem, with roads and highways deteriorating in more than the Midwest but also from coast to coast. "It's all over the country, and that's why whenever the government gets off their dead [behinds] and actually realizes it and stops taking money and putting it into special interest groups and actually puts it into infrastructures, the unions win, the small businessman wins, the big businessman wins, everybody wins."
---
Amanda L. Gutshall
is an associate editor of the
Monitor
.