Element Financial
'The Band is Back Together' — Newcourt Founders Steve Hudson & Brad Nullmeyer Reunite as Element Financial
By Jerry Parrotto
Fall Conference Issue
September/October 2012
In a Monitor exclusive, Element Financial's CEO Steve Hudson and president Brad Nullmeyer recall the rise and sale of Newcourt Credit and reveal Element's plans to enter the U.S. market through the vendor leasing channel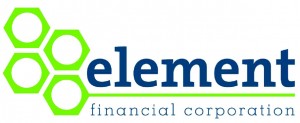 In a wide ranging interview with Steve Hudson, Element Financial CEO, and Brad Nullmeyer, Element's newly appointed president, it became abundantly clear early on in the discussion that Element is now poised to drive its growth strategy in the U.S. As Hudson noted at the outset, "In the last 27 months we've gone from $5 million in assets to $1.1 billion; $500,000 of equity to $350 million with $1 billion in funding lines available — and it took a year and half to convince Brad to come back."
By way of background, the genesis of Element goes back to 1986 when Hudson and Nullmeyer left behind the exciting world of auditing life insurance companies and got together with a handful of their Ernst & Young colleagues to form Newcourt Credit Group, a Canadian-based independent leasing company. Over the ensuing ten years, Newcourt grew to become one of the largest equipment leasing companies in North America. The company went public in 1994, landed a hallmark vendor deal with Dell Computer Corporation, created Dell Financial Services, started a new joint venture in 1997 and acquired AT&T Capital in 1998. In the 1999 Monitor 100, Newcourt Credit was ranked as the #3 largest equipment finance company in the U.S., and at the time was the largest independent with owned/managed assets of $23.3 billion. Less than one year later, Newcourt was sold to CIT Group for $2.4 billion.
Hudson joined Element Financial in early 2011. It didn't take long for Hudson to make the news when, in August 2011, Element announced it had acquired Alta Moneta from Irving Place Capital (f/n/a Bear Stearns Merchant Banking). Alter Moneta had been active in both Canada and the U.S. — at its peak, the firm serviced a portfolio in excess of $2 billion. In January 2012, Element announced the launch of Element Capital, a dedicated large-ticket equipment leasing business unit and, in May 2012, made the news again with the purchase of TLS Fleet Management from Scotiabank. With the most recent announcement in August 2012, that Nullmeyer would be joining the company as president, it became clear that Element was ramping up to enter the U.S. market to accelerate growth by expanding its presence in the vendor leasing channel.
Today, Element is comprised of three core businesses — Element Finance (vendor), Element Capital (large-ticket) and Element Fleet (fleet leasing). As shown in the exhibit, the vendor business is expected to contribute about 46% of anticipated 2012 originations. The large-ticket business, primarily focused on business aircraft leasing and headed by former GE Capital executive, Tony Bergeron, is forecasted to fund about $250 million in 2012 volume. The fleet business was established earlier this year via the acquisition of TLS Fleet Management , Canada's fourth largest fleet leasing company with over 750 fleets and 22,000 leased vehicles.
Nullmeyer has specific expertise in the vendor finance space building alliances with equipment manufacturers to help produce a steady stream of origination volumes. While at Newcourt, Nullmeyer was responsible for growing the company's vendor finance origination volumes from $993 million in 1994 to $18.4 billion in 1998. During this period, he established several world-class vendor finance programs for major manufacturers including Dell, Western Star Trucks, Avaya and Snap-on. Hudson noted that Nullmeyer has been active an advisor to Element over the last two years, so he's very well versed in current operations and business plans.
When asked about the mission of Element financial and how it would differ from the days of Newcourt, Nullmeyer was quick to point out that Element's key point of differentiation to achieve attractive returns on invested capital was to build ancillary services around its offerings that go well beyond "making money solely on spread." Nullmeyer noted, for example, that the fleet leasing business would allow Element to make additional fees without using its balance sheet while "giving clients what they want." On the vendor side, Nullmeyer explained how Newcourt was able to do the same thing with Dell Financial Services. "We were able to originate billions of dollars of assets by adding other types of services to that simple lease finance component — it allows you to originate a lot of volume and achieve great returns because you have spread income plus fee income," Nullmeyer said.
Expanding on the opportunity to land significant vendor relationships in the U.S., Nullmeyer noted there were other opportunities as big as Dell. "The model we put together for Dell works fantastically in several industries, and there are more of those channels available to us now than there were back then." Regarding Element's strategy to achieve scale in the vendor space, Hudson said, "We will be entering the market through acquiring an existing vendor client's company." When asked to elaborate, Hudson said, "I consider Brad to be the world leader in vendor finance, but he needs a U.S. platform to execute. So you can assume that you will hear an announcement from us, but I'm not at liberty to talk about it."
On the subject of expected competition in the U.S., Nullmeyer noted that the landscape in the U.S. had changed. He characterized regional banks, for example, as having liquidity, but said that they don't have the specialized expertise required to be effective. "They will buy a program and not know what to do with it," Hudson added. "They are just trying to make some spread on their balance sheets." Commenting on the major players in the vendor channel, Nullmeyer said that Dell was a perfect example — "and I don't want to reveal how we beat them, but I was the 18th person on a ten-person list. We went to the meeting uninvited and pushed ourselves to the top of the list because we know how to structure those things."
Nullmeyer did note that the banks would be somewhat restricted due to regulatory issues. "They can't compare to what we want to do in the U.S. and Canada," he said, and added, "We have the funding, ability and team to do what we want to do. We can structure things on the fly, on a whiteboard as we go. I don't think anyone understands as well as we do how to make it so simple for the client to make the computer and sell the computer — that's what they want to do."
On the funding side, Hudson said Element has gone back to the very traditional model it had at Newcourt, which is funding from some of the largest life insurers and pension plans in the world. Hudson did note that the funding model at Newcourt for the first 13 or 14 years was term match funding from the life insurance industry.
Hudson went on to explain that we then got "seduced" by the commercial paper funding model, which is a powerful tool for financing non-banks. The biggest single risk for non-bank financials is capital market disruptions, he said. "When something happens, for example, in the Middle East, or anywhere in the world, capital markets get a jolt. Non-bank financials are at the bottom rung on the totem pole in terms of liquidity. We learned that the hard way during the Russian ruble crisis when the Russian government defaulted on its debt, Newcourt's funding went from G+48 to G+283 overnight." Hudson remembers that he went to the washroom, threw up, then went to the office and "sold our baby" — referring, of course, to Newcourt's sale to CIT in 1999.
Commenting on the big-ticket and fleet businesses, Hudson noted that Element acquired the team that was at GE Capital based in Montreal. "We will be doing corporate and charter aircraft, but not commercial aircraft. We will also do medium- and heavy- duty helicopters — and expect to get into the rail business in the future," Hudson noted.
In a recent note to investors, Cormark Securities characterized Element Financial as an emerging growth story saying that over the last two years, Element has built a strong foundation for its business and, in relatively short period of time, has established itself as the largest independent leasing firm in Canada.
Over the medium to longer term, Cormark noted that it expects Element will look for cross-border opportunities in the U.S. market with M&A remaining a focus — "clearly, there is substantial capacity for additional growth," Cormark said.
As we concluded the interview, and in response to the question, "Is there anything to add to the discussion that would be of interest to our readers?" Hudson said, "Yes, tell them the band is back together."
Jerry Parrotto is the publisher of the Monitor.