Great American Insurance Group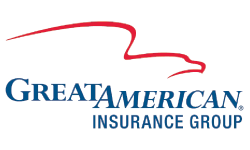 Contact Information
About the Company
Type of Business:
Equipment Insurance Products and Services
Type of Coverage: Specialized Coverage for Equipment, Commercial Vehicles, and Portfolio Risk
Online, self-serve insurance
Full-service, automated insurance and tracking program
Protection when insured value differs from actual value (Residual Value Insurance)
Protection from legal exposure when your assets are underinsured or uninsured (Contingent & Excess Liability Insurance)
Coverage when book value is greater than stipulated loss value (SLV Gap Insurance)
In Business Since: 1872
Description:
Great American Insurance Group helps make equipment transactions faster, easier, and more profitable for leasing and finance businesses, while helping them provide added value, convenience, and exceptional service to their customers. Physical damage insurance for equipment, vicarious liability insurance for lessors, property insurance for commercial titled vehicles, and equipment residual value insurance are our specialties.
Our consultative approach and custom solutions help you:
Create new revenue streams
Expedite the leasing and finance process
Provide a convenient insurance option for customers when acquiring equipment
Manage risk for a healthy portfolio
Great American Insurance Company, flagship company of Great American Insurance Group, has been upgraded to A+ (Superior) and has continuously earned an "A" rating or higher by A.M. Best Company since 1908 (affirmed February 21, 2014).
For more information, visit www.GAIG.com/EquipmentInsurance