Centra Funding, LLC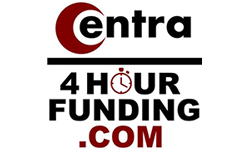 Centra Funding, LLC
1400 Preston Rd #115
Plano, TX 75093
(888) 779-4629
Centrafunding.com
Contact Information
Company Information
Centra Funding, LLC offers leading edge funding through its 4 Hour Funding Plus. LLC subsidiary. The 4 Hour Funding process offers true all-electronic payments.
End-users can apply online receiving credit approval, up to $150K application only, and sign finance contracts right on their cell phones!
4 Hour Funding offers 100% financing and funding occurs minutes after the end-user electronically signs contracts and the equipment vendor will receive their money the same day also.
Centra Funding / 4 Hour Funding is a true funding company with over 40 years of industry experience, headquarters in Plano, Texas with offices across the United States to serve every industry's financing needs.
General Information
Funding Information
Company Type
In Business Since
Trade Associations
Funding Source Type
Source of Funds
Annual Funded Volume
Deal Size Range
Term
Average Term
Products Offered
Scope of Geographic Activity
Northeast
Southeast
Northwest
Midwest
Southwest
West
National
Equipment Categories
Agriculture
Ambulance/Emergency
Audio, Visual & Broadcast
Auto/Light Truck
Business/Corporate Air
CAD/CAM
Computer Related
Construction
Containers
Dry Cleaning/Laundry
Energy Related
Environmental Systems
Food Distribution/Processing
Golf Related
Graphic Arts/Printing
Health/Fitness
HVAC
Industrial/Manufacturing
Machine Tool
Materials Handling
Medical/Dental
Office Equipment
Restaurant FF&E
Software Only
Software/Hardware
Telecommunications
Trucks and Trailers
Waste Disposal
Woodworking
Credit Quality
A Quality
B Quality
C Quality
Start-ups
Application Only Programs
Brokers Welcome
Commercial Real Estate
Custom Structures
Franchise Specialty
In-House Legal
Monetary Incentives
Poor Credit/Bankruptcy
Private Label Billing
Titled Vehicles