MB Financial Bank, N.A.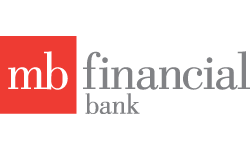 Contact Information
Company Information
For more than 40 years, MB Financial Bank has been delivering total financing solutions to U.S. equipment leasing companies. Our Lessor Finance Group manages a lease discounting loan portfolio of approximately $2 billion. We provide fast, real-world solutions and value through debt, equity and bridge financing along with full-service commercial banking.
As a funding source for leasing companies, MB primarily makes three to-five year, fixed rate loans secured by the leased equipment and assignment of the lease contract and the lease rentals between the lessor as owner of the equipment and lessee as the user of the equipment. We also selectively partner with leasing companies as an equity investor in leases.
The MB Paying Agent Express tool enables leasing companies to securely manage multiple lease payments online and in real time, and MB's Canadian Paying Agent service helps facilitate payment needs north of the border. MB's holding company, MB Financial (NASDAQ: MBFI) is headquartered in Chicago and has approximately $20 billion in assets. Member FDIC
General Information
Funding Information
Company Type
In Business Since
Trade Associations
Funding Source Type
Source of Funds
Annual Funded Volume
Deal Size Range
Average Deal Size
Term
Average Term
Products Offered
Discounting
Finance Lease
Lines of Credit
Equity Participation

Progress Payment Funding
Scope of Geographic Activity
Equipment Categories
Computer Related
Energy Related
Materials Handling
Medical/Dental
Office Equipment
Software/Hardware
Telecommunications
Credit Quality
Investment Grade or Equivalent
Near Investment Grade
B Quality
Equity Investor
Residual Sharing