Providence Equipment Finance, a Division of Providence Bank & Trust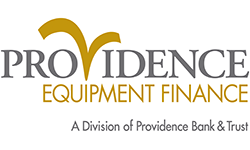 Contact Information
Company Information
PEF is Providence Equipment Finance, a Division of Providence Bank & Trust, the successor company to Cobra Capital which was acquired in 2016 to expand the banks commercial product offerings to include national equipment finance services to privately held businesses. Headquartered in the Chicagoland area, PEF will consider most types of equipment and differentiates itself by providing creative financing structures for experienced and growth-oriented entrepreneurs. Our ability to accommodate non-conforming situations is limited only by the essential use nature of the equipment, minimum DSC of at least 1:1, a customer industry niche, and experienced owner operators. We provide the most added value services to those growth oriented firms having proven experience in their specific industry. PEF provides the best value for customers who deserve to be financed.
General Information
Funding Information
Company Type
In Business Since
Trade Associations
Funding Source Type
Source of Funds
Annual Funded Volume
Deal Size Range
Term
Average Term
Products Offered
Conditional Sale
Finance Lease
FMV
Money-Over-Money
Sale/Leaseback
Scope of Geographic Activity
Equipment Categories
Agriculture
Audio, Visual & Broadcast
Auto/Light Truck
Bus/Mass Transit
CAD/CAM
Computer Related
Construction
Containers
Dry Cleaning/Laundry
Energy Related
Food Distribution/Processing
Graphic Arts/Printing
Health/Fitness
HVAC
Industrial/Manufacturing
Machine Tool
Materials Handling
Medical/Dental
Mining
Office Equipment
Packaging Paper
Restaurant FF&E
Retail FF&E
Software Only
Software/Hardware
Stone Fabrication
Telecommunications
Trucks and Trailers
Waste Disposal
Brokers Welcome
Custom Structures
Working Capital ABL services considered on a case by case basis.
PEF funds privately held mature and emerging growth businesses.
Our pricing is credit based and we provide creative financing structures for experienced entrepreneurs.