Recently, The Alta Group and The Alta Group-EMEA (Invigors) completed a digital benchmark study aimed at understanding the current state of digitalization within the equipment leasing industry. We engaged a diverse set of lessors across industry sectors and geographies. The online survey and C-level interviews provided a rich data set that identified implementation drivers (see Figure 1), barriers (see Figure 2) and the areas across the leasing lifecycle which have received the most investment to date.
The Big Picture
Digital strategies and the implementation of digital tool sets are widespread throughout the industry and a focus area for most lessors. However, the extent of digitalization of business processes and models varies, as do the planning and implementation methodologies employed. Factors including market segment, average transaction size and organizational resources play important roles.
Unsurprisingly, digital innovation is most common among lessors with flow volume or those aligned to specific industries such as agriculture and transportation where telematics and the Internet of Things (IoT) are driving transformative business models. Early adopters are motivated by the need to automate processes, utilize data analytics or develop new products, such as managed services programs, among other things. Conversely, legacy technology and/or cultural barriers in some organizations are hindering the adoption of digital tool sets.
The survey also revealed:
Customer expectations and experience are driving many digital initiatives.
Competitive challenge from fintechs and other new entrants is playing a role.
Mobile applications, predictive analytics, big data and IoT were viewed as the most important technologies.
The large quantities of data amassed by companies can be better leveraged using analytics and predictive models recently available in the market.
Mobile applications, self-service portals and automated credit decisioning have found solid acceptance and implementation.
Fewer than 5% of lessors are using readily-available applications such as electronic identity, e-signature and e-documents, though more than half are planning to implement these technologies.
Social media sales and marketing tools are either being used or are under serious consideration in more than half of the lessors surveyed; not many are using it for credit decisioning or end-of-term predictive behavior.
Artificial intelligence (AI) applications such as chatbots and natural language processing to improve customer service efficiency are gaining traction, though fewer than 15% of those surveyed have implementations in progress.
Predictive analytics for applications in sales and marketing, risk and portfolio management and end-of-term behavior are widely being considered but have been implemented by only a small percentage of companies. Some companies cited legacy technology as a hinderance to accessing data for these applications.
Respondents noted a need to implement digital initiatives to support managed services transactions (MSTs) but cautioned risk and legal concerns may impede progress in rolling out MST products and programs.
Companies with a formalized approach for bringing new ideas and technology forward seem to have the most success in broader digital implementation and adoption.
Ninety percent of respondents are employing cross-functional teams for digital implementations. Despite this, 75% of lessors surveyed cited organizational issues as a constraint — siloed organizations are a challenge to implementing digitization successfully. Before rolling out full-scale deployments of digital initiatives, 85% are running digital pilots and "fast to fail" environments for innovation and testing.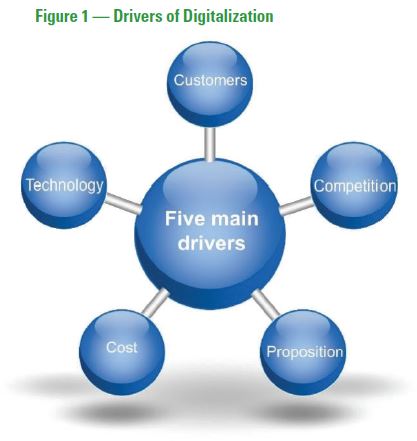 Where Do We Stand?
The equipment leasing industry has prided itself on innovative product development, product delivery and portfolio management.
The industry is mature, providing lease financing to every commercial equipment vertical with speed and efficiencies honed over more than 40 years. New business volumes are strong, margins are (mostly) good, loss provisions and bad debt are low and operating expenses are within historical norms. Things are good. Or are they?
The survey results dovetail with our direct experience. Lessors and lease management systems lag in the adoption of digital capabilities compared to other financial services sectors such as B2C and B2B loan and asset management providers. While the industry has widely discussed the need for transformative change, digitalization has been incremental for most and transformative for only a few.
Why is this? Many lessors pointed to the barriers to digitalization (Figure 2). Others recognized a first mover advantage but have not acted. Fintechs and alternative lenders offering a holistic digital platform experience are not (yet) capturing meaningful market share or creating enough concern for companies to make radical departures from their business models — for many, the fear of losing business has yet to materialize.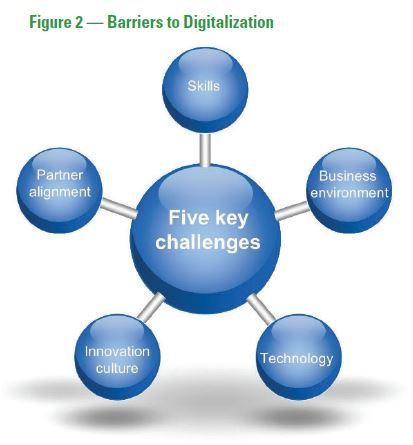 Some organizations have recognized the disruptive nature of digitalization and have completed or initiated the process of transforming their business models in substantive ways, but they are in the minority. Many executives who fully embrace the change to digital business models recognize measured success will lead to more widespread adoption. Most of the benefits of digitalization realized to date are focused on achieving greater process efficiencies and enhanced customer experience. Fewer than 25% of lessors surveyed have realized financial benefits in terms of greater revenues, lower costs and improved margins. The verdict was it was too soon to tell how digitalization will affect the bottom line.
Blockchain, IoT, big data, AI, smart contracts and predictive analytics will facilitate future business models as applications incorporating these technologies are developed for, or adopted by, lessors. Over the short term, technologies developed outside the industry, such as AI and predictive analytics, seem most likely to have meaningful application to the industry.
Where We Are Headed
While the industry may be behind in creating transformative digital business models, it is at a transition point. Though uncertainty and indecision were reflected in survey responses and expressed by many at industry conferences, new and innovative tools are being introduced to help drive substantive change.
Companies succeeding in digitalization efforts focus on incremental changes based on observation and collaboration at various levels in the organization — counter to the traditional executive-driven model. The top-down model is less effective in digitalization efforts because the second level charged with execution may not have been included in the decision-making process in a way that helps them understand the technology and alleviates concerns over potential loss of domain control.
Looking at the supporting infrastructure, taking a traditional "big bang" transformational project approach to digitalization can be fraught with risk. A better approach is extracting ideas from line staff, promoting from the bottom up to gain executive support and ensuring alignment to company strategy. This sets the stage for a transformative environment in which change is understood and agreed on by all major stakeholders. It results in a better understanding of the needs and requirements of technology solutions and how they fit into the cultural blueprint and system roadmap. A transformative environment also allows for quicker proof of concept projects, which may or may not prove viable, but can lead to greater collaboration and better outcomes. Understanding how to develop this kind of environment requires a fundamental shift in the ways organizations recruit, engage and evaluate the talent and experience of staff and business partners.
Embracing the promise of digital technologies in alignment with a transformative strategic vision will drive the next level of innovation in equipment leasing. It is an exciting time.
Richard Ryan, John Hurt and Roberto Fernandez contributed to this column.