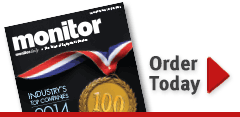 Company/Executive Profiles

SERVICES DIRECTORY
Our services directory includes solution providers for asset/equipment management, collections/recovery, inspections, outsourcing, leasing software, and other services.
VIEW DIRECTORY
JOB OPPORTUNITIES
Looking to make a career change?
Visit our jobs section for the most current listings in the equipment finance industry.
VIEW JOBS
FUNDING SOURCES
The funding source directory is a listing of lenders interesting in purchasing and/or participating in equipment related loans and leases.
VIEW DIRECTORY
Today's Top Stories...
Last Updated:
09/19/14, 7:24 am EDT
Recent Headlines...
Bloomberg: Fed Signals Rate Rise Still Distant
Thu, September 18, 2014
GE Capital Leads $235MM Facility for Boat Dealer MarineMax
Thu, September 18, 2014
CIT Provides $32MM Financing to Spirit Bascom Ventures
Thu, September 18, 2014
MAPI: U.S. Manufacturing Poised for Steady Growth
Thu, September 18, 2014
White Oak Provides $17MM Loan to Imaging Equipment Company
Thu, September 18, 2014
Enverto Closes $100MM Equipment Financing Credit Facility
Thu, September 18, 2014
CDK Global, GE Capital Ink Program Agreement
Wed, September 17, 2014
Nations EF Names Schoebel VP of Business Development
Wed, September 17, 2014
Fleet Financing Names Newman as Senior Finance Officer
Wed, September 17, 2014
CFLA Announces Member of the Year Award
Wed, September 17, 2014
GECAS Completes Sale/Leaseback with TUI
Wed, September 17, 2014
WSJ: BNY Mellon Replaces U.S. Bancorp in Top Five Banks
Wed, September 17, 2014
TD EF Names Corporate Banking, Healthcare Senior MD
Wed, September 17, 2014
GE Capital Fleet Services Releases Company Car Survey
Wed, September 17, 2014
Healthcare Finance Group Hires Two SVP/BDOs
Tue, September 16, 2014
GE Capital Launches Auto Meter Readings for OI Dealers
Tue, September 16, 2014
1st Source Promotes Byers to Vice President
Tue, September 16, 2014
ABL Specialist Reagan Joins Medallion Business Credit
Tue, September 16, 2014