CODIX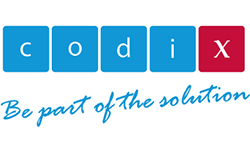 Contact Information
About the Company
Type of Business:
Software Provider
In Business Since: 2000
Trade Associations:ELFA, IFA, CFA, FENCA
Description:
CODIX is a software solution provider with branches in USA, France, Spain, Bulgaria, Tunisia, Mexico & Vietnam. iMX is a global, powerful and flexible event-based IT solution that provides an all-in-one package for any kind of leasing, finance and collection activity. Key highlight points:
1) Full multilingual/multicurrency abilities including worldwide multi-entity support
2) iMX includes all the most advanced business functionalities to cover any need of a leasing, finance or collection company
3) Native integration of all the tools needed to improve global productivity: telephony, imaging, decisional environment, etc.
4) Complete expert system technology allows changing system behavior via a graphical tool– including full workflow and task follow up
5) Complete Web based access for external entities
6) Complete reporting and decisional platform
The solution covers the entire lifecycle of leasing products, assets and services. Codix is a leading provider of finance and collections solutions worldwide.