GreatAmerica Portfolio Services Group, LLC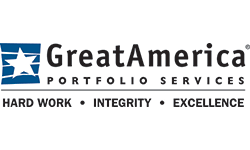 Contact Information
About the Company
Type of Business:
Portfolio Management
In Business Since: 1992
Trade Associations:ELFA, NEFA, NAELB
Description:
GreatAmerica Portfolio Services Group LLC is a lease and loan outsourcing service provider specializing in backup and third party servicing. Our entrepreneurial approach to business has created a culture that puts high value on finding solutions that help our customers achieve greater success.
We provide an exceptional operational platform that allows our Partners to outsource their servicing needs without relinquishing control of their customers. An ideal Partner is a business that has identified a need for servicing and wants to reduce costs and operational barriers so they can concentrate on core strengths. Our experience, industry knowledge, capabilities, and "Helping You Get There" approach delivers value to our Partners and their customers.
Primary Servicing:
Application Entry
Credit Processing
Documentation Preparation
Contract Booking/Boarding
UCC Administration and Tracking
Insurance Administration and Tracking
Vehicle Titling and Tracking
Customer Service
Private-label Invoicing
Cash Posting and Management
Collections
Workout/Loss Mitigation Management
End of Term/Asset Management
Sales/Use and Property Tax Management
Financial and Managerial Reporting
Electronic Document Storage
Back-up Servicing:
"Hot" Back-up Solutions: Responsibilities include running partial or full parallel systems with the primary servicer. Complete data mapping and testing offers a more condensed transition period.
"Warm" Back-up Solutions: Responsibilities include reviewing monthly servicer reports, performing portfolio analysis and storing portfolio data files.
"Cold" Back-up Solutions: GreatAmerica Portfolio Services would be named as a possible successor servicing option with minimal monitoring and transition preparation.
Other complementary lease and loan services can be tailored to meet the needs of our partners. GreatAmerica strives to ensure that our customers, employees, investors, and communities are proud of their association with GreatAmerica based on our reputation for hard work, integrity, excellence, and strong history of shared success.