NFS Leasing Inc.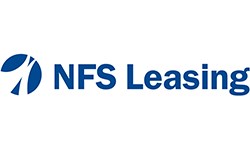 Contact Information
Company Information
NFS Leasing is an independent equipment leasing company, serving growth oriented companies in a variety of fields. NFS specializes in leasing technology equipment, scientific and medical equipment, as well as robotic, agricultural and construction equipment. Having helped a wide array of businesses grow for more than a decade, we are approaching a billion dollars in lease originations.
Our Management team averages over 25 years of technology and finance experience. We have developed a broad base of extensive affiliations throughout the IT, medical, scientific, construction and agricultural marketplace that can be leveraged to bring our customers unique incremental value. This who's-who list of vendor partners has relied on us to be fast, friendly, fair and ethical business partners for their valued customer base.
Having been entrepreneurs and built companies ourselves, we have experienced the frustrations of rigid and obsolete credit requirements, an unwillingness to understand your business, and an inability to be flexible in leasing practices. Our goal has always been to create a different kind of leasing company, one that will take the time to learn about your business, work as your ally to finance your leasing needs, and facilitate your growth. We understand that behind your financial statements is a real business with real people and real potential. At NFS, we want to provide you fast, flexible equipment lease lines to enable your business to thrive.
General Information
Funding Information
Company Type
In Business Since
Trade Associations
Funding Source Type
Source of Funds
Annual Funded Volume
Deal Size Range
Term
Average Term
Products Offered
Conditional Sale
EBO
Finance Lease
FMV
FMV wEBO
Lines of Credit
Sale/Leaseback
True Lease
Vendor
Scope of Geographic Activity
Equipment Categories
Agriculture
Ambulance/Emergency
Audio, Visual & Broadcast
Computer Related
Construction
Energy Related
Environmental Systems
Food Distribution/Processing
Graphic Arts/Printing
HVAC
Industrial/Manufacturing
Machine Tool
Materials Handling
Medical/Dental
Mining
Office Equipment
Packaging Paper
Software/Hardware
Telecommunications
Waste Disposal
Brokers Welcome
Custom Structures
Monetary Incentives
Poor Credit/Bankruptcy
Portfolio Purchases