How did a holiday luncheon that gathered leasing industry professionals in support of charity become an international foundation fostered by some of the biggest players in the business? As Andrew Denton explains, it all started with a chat between friends that turned into an idea that "just snowballed." Denton, COO of CHP Consulting, is co-founder and CEO of the Leasing Foundation, an initiative he started with IAA Advisory's chairman Derek Soper to create and support activities that benefit the leasing and asset finance industry across Europe. Soper, who chairs the Leasing Foundation, is a legend in European leasing, having entered the business in 1960 with the first leasing company established in the UK and later leading AT&T Capital in both Europe and Asia, then establishing The Alta Group and International Advisory Associates.
"Derek and I had organized a Christmas lunch for the industry for about three years and raised a whole bunch of money for charity. Later, we were sitting in Derek's study and said we ought to try to do something more formal to give the industry the focus it needs for its charitable activities because no one was doing that. To be honest, we got a bit overambitious" Denton says.
The conversation moved beyond creating a charitable organization, as the two broached subjects that challenge leasing and asset finance in Europe — fostering the next generation of talent, promoting diversity among industry professionals and procuring relevant and reliable research. The pair reached out to Professor Peter Thomas, director of the Manifesto Group, to add his deep industry insight.
"Then we started to overstretch ourselves even more. We began speaking to people we know in the industry about the lack of research and that was the point when I said, 'In the U.S. they have a foundation that does all of these things. It doesn't necessarily do the things that we need in Europe, but there's a model for doing this, so why don't we create a foundation here?' And that's what we did," he explains.
The next step for Denton was to contact Chris Sullivan, the chief executive of corporate banking for the Royal Bank of Scotland, to ask if he would serve as patron and first governor of the foundation. "Much to my amazement he agreed. It really is just one of those cases of be careful of what you ask for you might just get it," he says with a laugh.
Putting the Pieces Together
The phone calls continued, as Denton and Soper enlisted two more directors and asked well-established industry leaders to serve on the board of governors, which sets the foundation's agenda. Professor Thomas became the foundation's COO and Tarun Mistry, partner and head of Grant Thornton UK's Leasing & Consumer Finance advisory practice, joined as CFO. Mary McNamara, previously chief executive of the commercial division at Close Brothers, serves as chair of the governors. There was also dialogue with colleagues in the U.S., such as Cameron Krueger, a director at Deloitte and then-chairman of the Equipment Leasing and Finance Foundation (ELFF), to discuss the new venture.
"As I started to ask senior people if they would like to join us and become governors, everybody kept saying yes, and it really started to move along. We deliberately created a structure where we have a lot of governors because we are shooting for the moon. We want the most senior people we can get our hands on because we want to have a major influence in European leasing," Denton adds.
In addition to the governors, the Leasing Foundation includes a body of professionals who head the foundation's fellowship program and are charged with using their expertise to identify, discuss and write about key issues in the industry. Just as the governors select additional governors, current fellows recommend new members via an election committee led by Paul Bartley, founding director at Close Leasing, and Lindsay Town, founder of Kent Asset Solutions. "Part of what we are trying to do is to make the foundation by the industry for the industry, so the fellows are doing a lot of the work themselves," he says.
Also helping to power the foundation are Gila Birk, the organization's first international intern, and Stephanie Strickland, associate advisor for the foundation's Women in Leasing diversity initiative.
Research
Crediting the ELFF for its structured, academic industry research, and noting the dearth of such challenging, evidence-based study in Europe, Denton says forming a sound research arm is vital to the Leasing Foundation's mission. To assist in financing its work, the foundation asked for support from its governors' organizations, such as Siemens Financial and Société Générale, which have backed research projects.
One such undertaking is the Asset Finance Observatory, an industry research network that was launched in November 2013 with a workshop hosted by Siemens Financial. The Observatory's first research initiative is an evidence-based project that examines SME customer needs and analyzes perceptions of asset-based finance products to uncover the drivers of customer behavior. "The goal of the Asset Finance Observatory is to try to define our industry. Nobody quite knows if we are a leasing, factoring, fixed-term credit or equipment finance industry. People don't truly understand the contribution that we make to the global economy. If they understood what we did — if we could agree what we do — it would make our impact that much greater," Denton explains.
In addition to peer-reviewed, academic research, the foundation has introduced Leasing360, a channel to publish content and commentary from foundation governors, fellows and industry experts. "One of our goals is that we will never, ever charge for anything that we publish because the idea is to get information and opinion out there for the good of the industry," he notes. "On that basis, we are asking people if they feel strongly about a subject, and even if we don't necessarily endorse their view, write a paper and we'll publish it and make sure it gets out to people via Leasing360."
One of the Leasing Foundation's latest launches is the Catalysts program, which encourages the sharing of frameworks for innovation within the industry. Denton explains, "Clearly people's intellectual property is their own, but there are accepted and known frameworks to develop innovation, and we want to try to foster those frameworks, make them specific to asset finance and share them throughout the industry."
Education, Diversity & Future Leaders
The Leasing Foundation stresses education as a way to project the professionalism of the industry and to foster interest in leasing among young talent. Specifically, the foundation seeks to establish proper accreditation of professionals and create structured academic programs. "Part of the paucity of new talent that we have across the European industry comes down to the fact that there is no undergraduate scheme. People aren't able to learn about leasing when they are being developed as very young professionals," Denton says.
To help drive the education effort, the Leasing Foundation is tapping the expertise of e-learning advisor Dr. Tim Gibson, who is head of learning services at the HM Government Ministry of Justice. The foundation is also working with a university in the UK that is considering offering leasing-based degrees and establishing a chair of leasing as part of its business school.
The foundation's Future Leaders program, supported by NetApp Capital Solutions and Société Générale Equipment Finance, is an advanced, unaccredited course of study, or, as Denton puts it, a "below the covers accelerated leasing MBA." Currently eight participants are enrolled in the program, which offers action learning sessions facilitated by the foundation's academic partners. When they formally graduate from the program, they will be poised to become leaders in the field, as well as serve as industry ambassadors to the upcoming generation. "If there is one way we can avoid being an industry of old white guys is to get more Gen Y'ers to start moving up the ranks and mentoring them," he adds.
Having held only two meetings in 2013, the Women in Leasing group is making progress in both identifying issues on which to focus and how to engage professionals across the industry. The meetings included sessions on confidence-building, effective networking and career development. "We've had tremendously positive feedback, and both of the Women in Leasing meetings have been oversubscribed almost by 100%," Denton notes. The next meeting of Women in Leasing, supported by Grant Thornton, will be held on March 5, 2014 in London and will focus on practical strategies for women in organizations and pave the way for more focused training and development targeted at women in leasing and asset finance.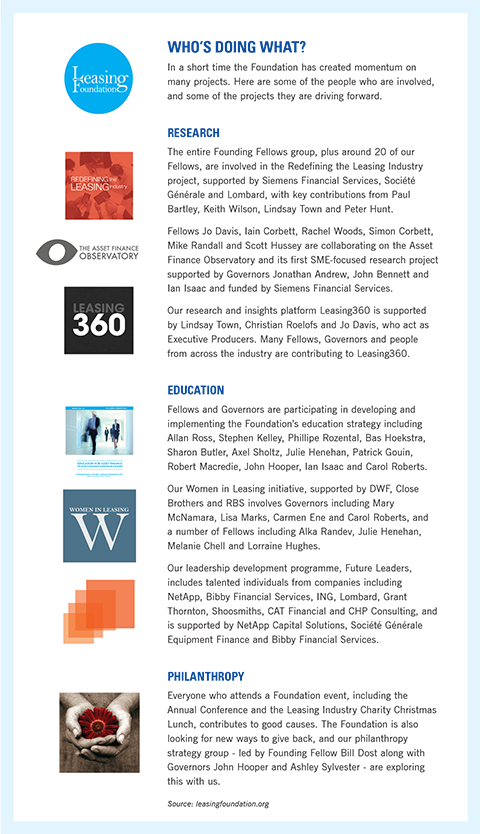 Philanthropy
The philanthropic aim of the Leasing Foundation is to bring focus and organization to charitable activities in the industry and to help the industry support new causes. In that effort, Rev. Dr. K. Bill Dost, founder of D&D Leasing, is leading a team to make recommendations for the best ways the industry can contribute philanthropically to society. In 2013, the foundation raised more than £30,000 for the Motor Neurone Disease Association and Macmillan Cancer Support. In addition to raising funds, the foundation is exploring volunteer activities and the possibility of establishing venture philanthropy funds.
"We want to create a lightening conductor for the industry's philanthropic activities. The ELFA, and America as a whole, is a culture of service. Americans find it quite surprising when they come over to Europe and that culture of volunteering and service is not there. What we are trying to do is encourage volunteering and getting involved. The easiest thing in the world is to give a hundred euros and forget about it," Denton explains.
Gaining Momentum
Successfully "calling in a bunch of favors," the Leasing Foundation held its first conference in September 2013. The foundation's patron Sullivan donated the Royal Bank of Scotland's auditorium in London and opened the show by discussing education, professionalism and building awareness of the role of leasing and asset finance for small business. Keynote speaker, Lord Mervyn Davies CBE, former chief executive at Standard Chartered and author of the "Women on Boards" reports for the British government, addressed the 130 in attendance on the value of an industry body that has a strong emphasis on social good.
"Broadly speaking, we tried to avoid talking about leasing at our leasing conference. We wanted to be thought provoking in concert with the foundation's focus on education, diversity, philanthropy and industry research," Denton says. Société Générale Equipment Finance CEO Marie-Christine Ducholet will chair the foundation's second annual conference on October 3, 2014 at Société Générale's corporate headquarters in La Defense, Paris.
"It would be great for your readership to understand that we exist to fill a vacuum in Europe in regard to developing the leasing industry. There absolutely is not a vacuum in the U.S., which is why we are a rest-of-world organization," Denton explains. "We have had some exploratory conversations with [ELFF trustee] Rich Gumbrecht, where perhaps we can embark jointly on projects. We can certainly learn a lot from the U.S. foundation and do a lot together. We look forward to that."
Lisa M. Goetz is editor of the Monitor.